UCI World Cup 2011 DHI 6 - La Bresse FRA Top 10 Men
After numerous changes in the Hot Seat during the men's final, the two-time World Champion and French favourite Fabien Barel (Mondraker) managed to recover from a near crash at the top of the course to take the lead, which he held until Minnaar came down the track.
Minnaar had qualified a relatively slow fifth, but was on fire for his final run. The South African was near flawless, avoiding the slide-outs that cost others time, while still managing to throw in pedal strokes where others were coasting. He came flying across the line nearly 3.5 seconds faster than Barel, setting the first sub-2:10 time of the day.
Neither Gee Atherton (Commencal) nor Canada's Steve Smith (Devinci), both strong contenders, were able to produce the run necessary to take the Hot Seat, leaving World Cup leader Gwin to try to dislodge Minnaar.
Gallery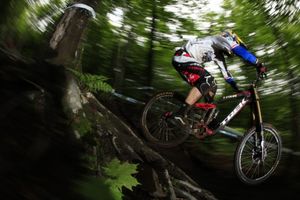 Related Content